Thursday, May 13th @ 7:30pm: TRAVIS NELSON
Travis Nelson has performed across North America, the World Series of Comedy, the Seattle International Comedy Competition, you've heard him on Siruis XM, and he recently filmed his first special with Dry Bar Comedy. Featuring Deece Casillas
https://www.eventbrite.com/e/social-hour-comedy-at-osprey-lounge-tickets-150661240827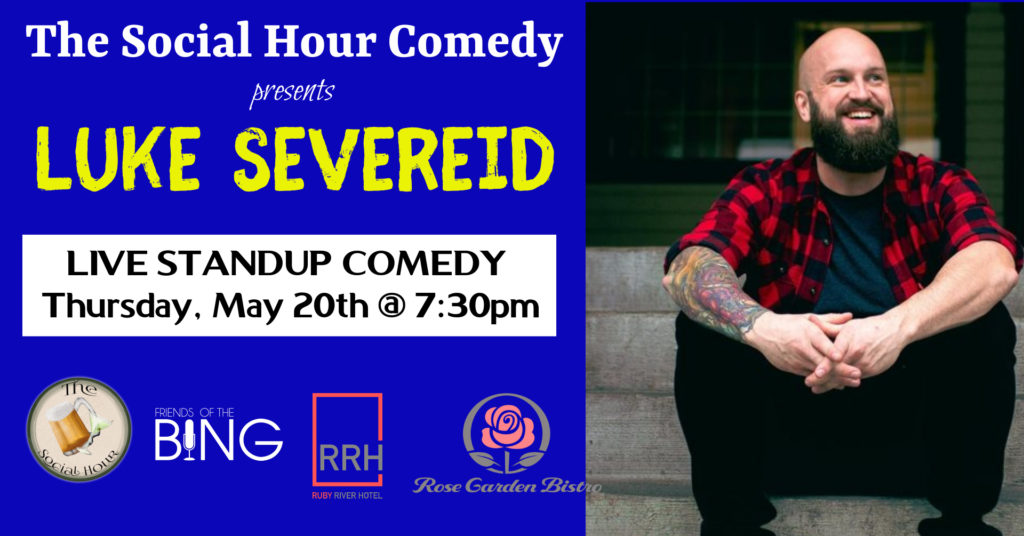 Thursday, May 20th @ 7:30pm: LUKE SEVEREID
Luke Severeid is a PNW native who has taken his rambunctious brand of comedy on the road touring up and down the west coast and Canada yelling jokes the whole way. His gruff exterior, coupled with his affinity for making loud noises, simultaneously contradicts and compliments his childish enthusiasm for absurdity. Featuring Greg Beachler.
https://www.eventbrite.com/preview?eid=152603632573/
Thursday, May 27th @ 7:30pm: JEREMIAH COUGHLAN
With his candid, conversational brand of self-deprecating humor, Jeremiah has become a regular performer at clubs all over the Northwest, including Helium Comedy Club. He has been featured on Audible's comedy series "Sounds Like America" and performed all over the country and internationally.
https://www.eventbrite.com/e/comedy-night-at-the-ruby-river-hotel-tickets-152605421925